A bit of history
The American Crime Writers League was formed in the late 1980s by Ed Gorman, left, and Robert Randisi, who wanted a private forum for exchanging ideas, complaining about almost everything, and trying to understand this decidedly wacky business. Robert Randisi is also the founder of The Private Eye Writers of America.
Here's a chance to find out what some of the major names in mystery fiction - from those who write about cozy cats to those who walk the mean streets - have in the bookstores today. You can discover new authors who are not yet household names but intend to be.
Please note: We are professional writers who have more than enough ideas for books on our own. Much as we know you'd like to share your compelling story, we can't accept requests to write your crime book idea for you or with you.
ACWL Officers
Joan Hess (past president)

President: Jan Grape
Vice President: Bill Crider (passed away 2/12/2018)
Secretary/Treasurer: Shirley Kennett
Membership: Shirley Kennett
Newsletter: Jan Grape
ACWL Group List Info

ACWL Anthologies
Outstanding collections of tales of murder, mystery, suspense, and true crime by bestselling, award-winning authors of the American Crime Writers League. Mystery buffs will find something tantalizing for every taste. Contributors include winners of and nominees for Agatha, Anthony, Bram Stoker, Derringer, Edgar, Golden Dagger, Left Coast Crime, Macavity, Shamus, and Lifetime Achievement Awards. Edited by ACWL members R. Barri Flowers and Jan Grape.
---

J.R. Sanders is a native Kansan and longtime denizen of the L.A. suburbs. His interest in Old West history stems from childhood visits to the Dalton Gang hideout, Abilene, and Dodge City. His interest in crime dates back to his days as a police officer and a private investigator. His nonfiction articles regularly appear in magazines such as Law & Order and Wild West; he is a member of the Western Writers of America, Western Fictioneers, International Thriller Writers, and a new member of American Crime Writers League.

His book Stardust Trail is a Finalist for Killer Nashville's Silver Falchion Award for Best Investigator.

Reviews of Stardust Trail:
"One of the best PI novels I have read in years,... Tight plotting, wonderful dialogue and a mystery with surprising twists make Stardust Trail a must read." - Jim Meals, 5 Stars, Amazon

"This is a masterpiece of detective fiction in the style of the great 1930's detective novelists. J.R. Sanders opens up a new view of 1930's Hollywood, complete with twists and turns, cowboys, criminals, and cops. The characters are loveable, likable, unlikeable, downright nasty, and very real. I'm looking forward to his next Nate Ross novel." - Vincent Delgado, 5 Stars, Amazon

Review of Some Gave All:
"Delving into the still-available newspapers and documentation of the times, J.R. Sanders presents the lives and violent times of 10 peace officers and the equally diverse rogues' gallery of lawbreakers who cut these lawmen's careers short between 1879 and 1910. As Wild West Editor Gregory Lalire writes in the foreword, Sanders 'tells these stories with flair, bringing out the drama in the lives and deaths of some of the countless Western lawmen worth knowing.'" - Jon Guttman, Wild West Magazine

J.R. currently lives in Southern California with his wife, Rose, and their rescue dogs, Ruby and Marlowe. Visit his website, and follow J.R. on Facebook and Instagram.
---

Chris Chan is a consulting detective who only investigates fictional crimes.

Chris works for Agatha Christie Ltd. as a writer, researcher, and "International Goodwill Ambassador" who reaches out to Christie fans around the world. When fans, scholars, screenwriters, journalists, or anybody else has a question about Agatha Christie or her work, he does the necessary digging to provide answers. He's also worked on crime fiction investigations for publications, theater companies, scholars, authors, and avid fans; digging into the works of Golden Age mystery writers, reading manuscripts to test the difficulty of the literary crimes, tracking down potential plagiarism and copyright infringement, and answering questions ranging from "How many times did Agatha Christie use arsenic in her books?" to "What was Father Brown's first name?" to "How many times was Doctor Watson married?" If you have questions about a mystery writer's work, or need help organizing information connected to fictional crimes, Chris Chan can help.

He's also an historian and an information scientist with degrees from Marquette University and UW-Milwaukee, specializing in literary history, the history of crime and punishment, mass consumption, the history of science, Asian-American history, and the history of Milwaukee. He teaches at the high school, college, and graduate levels; focusing on courses in history, literature, political science, and mathematics.

Chan works as a contributing editor for Gilbert! Magazine, a periodical devoted to the work of G.K. Chesterton, and a DVD and book reviewer for The Strand Magazine. His short mystery fiction and true crime articles have appeared in several magazines and anthologies.

Visit him on Facebook or on his Blog.

---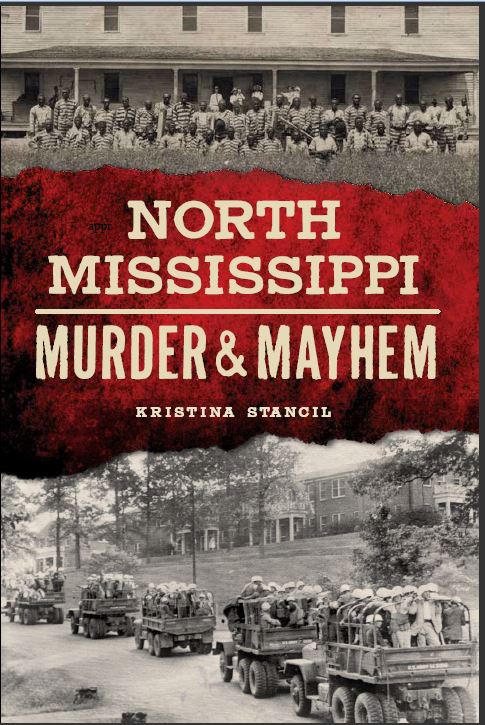 North Mississippi's idyllic rolling hills and deep forests hide a history steeped in blood. America's first serial killers, the Harpe brothers, brutally murdered as many as fifty people at the end of the 1700s before finally meeting their end on the Natchez Trace. During Reconstruction, politician William Clark Falkner, great-grandfather of the author William Faulkner, was shot in the streets of Ripley by a former business partner after being elected to the state legislature. In the 1960s, Samuel Bowers and the Mississippi Klan tried to start a national race war by orchestrating the Freedom Summer murders and the Ole Miss Riot.

Kristina Stancil details the shadowy side of North Mississippi.

She has a master's degree in English from Tiffin University. Originally from Louisiana, she now lives in the North Mississippi area. Stancil is a regular contributor to Serial Killer Magazine and Halloween Haunts. She has previously contributed to the Houma Courier (Houma, LA) and was interviewed as a Horror Writers Association's Fresh Blood Author of the Month. She has been accepted to the Loyola University New Orleans graduate program in Criminology.

Kristina Stancil is a freelance writer and a novelist currently serving as the Horror Writers Association's Curriculum Chair, Horror Writers Association Gulf Coast Chapter Chair, and President of Thrillerz 13's horror club "Serial Thrillerz." Stancil is the managing editor of Blood Reign Lit Magazine.

Visit her on Facebook or LinkedIn.
---
Mark Twain once said, "Every man is a moon and has a side which he turns toward nobody; you have to slip around behind if you want to see it." ("The Refuge of Derelicts" 1905).
This insight into human nature proves to be the driving force behind Detective Sam Chitto's pursuit of justice in The Horned Owl.

Two Choctaw tribal council members pull Chitto into an unauthorized investigation to prove a teenage boy is innocent of murder and sexual mutilation. Using graphic novels the boy produced, prosecutors enlist the aid of a forensic psychiatrist to prove the boy committed a fantasy murder. Also suspect is the reason the boy gave for being seen near the body after the murder, i.e., the Choctaw deity Ishkitini, the Horned Owl, forewarned him in the night that someone would die violently.

One case investigation becomes two as Chitto realizes the murder occurred near where his father was killed a decade before. Seizing the opportunity to solve his father's murder, Chitto investigates both the new murder and the old. Chitto's efforts to discover the moon side of various characters drives the action in both investigations.

"Another sharp mystery in a continually improving series." -- Kirkus Review
---
From award-winning criminologist R. Barri Flowers and the bestselling author of Dead at the Saddleworth Moor, Prostitution in the Digital Age, and The Sex Slave Murders, comes the gripping historical true crime book, The Dreadful Acts of Jack the Ripper and Other True Tales of Serial Murder and Prostitutes.
The renowned Ripperologist taps into his expertise on serial murderers and sex trade workers in offering an in-depth look at four noteworthy cases in which the two worlds collide frighteningly.
Jack the Ripper, the infamous and unidentified Victorian serial killer of at least five prostitutes in the dangerous section of London, known as Whitechapel, in 1888. The Ripper, who slashed and horribly mutilated his sex worker victims, set the tone for diabolical, vicious, serial slayers to follow for all time.
Aileen Wuornos was an American prostitute, who doubled as a serial killer in murdering seven johns in Florida between 1989 and 1990. She claimed they tried to or succeeded in raping her during the course of prostituting herself. In the process, Wuornos ended up being apropos for this book as a sex worker and serial predator.
Kendall Francois was an African American serial killer, dubbed the "Poughkeepsie Killer," who strangled to death eight streetwalker prostitutes in Poughkeepsie, New York, between 1996 and 1998. Francois used his own residence as a horrifying house of homicides and burial ground.
The Edmonton Serial Killer represented one or more mostly unidentified serial killers who targeted and murdered dozens of prostitutes in the city of Edmonton in Alberta, Canada, between the mid-1970s and the early 2000s, and possibly beyond that. The sex trade worker victims were often picked up in the city's red-light district stroll, murdered, and dumped in various killing fields in rural areas around Edmonton.
The book will also chronicle the infamous and colorful 19th century New Orleans prostitute and serial killer, Mary Jane Jackson, and modern-day American serial killers of prostitutes, Walter Ellis, nicknamed the "North Side Strangler," and Vincent Johnson, dubbed the "Brooklyn Strangler."
Included is a bonus true crime short on Douglas Clark and Carol Bundy, a serial killer couple who targeted prostitutes on the Sunset Strip in West Hollywood, California; as well as excerpts from two fascinating historical true tales of child murder, serial murder, and jealous rage.
For fans of true crime tales and literary criminology, this gripping volume written by someone with the verisimilitude that the subject matter merits will surely hold your attention from start to finish.
Praise for True Crime Books by R. Barri Flowers
"Selected as one of Suspense Magazine's Best of 2011 books." - John Raab, CEO/Publisher on The Sex Slave Murders
"A gripping account of the murders committed by husband-and-wife serial killers Gerald and Charlene Gallego." - Gary C. King, true crime author on The Sex Slave Murders
"A model of exposition not to be missed by anyone interested in the annals of American criminal behavior." - Jim Ingraham, Ph.D., professor emeritus of American Studies at Bryant University on The Pickaxe Killers
"R. Barri Flowers always relates an engrossing story." - Robert Scott, true crime author on The Sex Slave Murders
"Striking, well-written tales sparkle in this ocean of murder." - Diane Fanning, true crime author on Masters of True Crime
"Exhaustively researched, each storyteller brings their own unique prose to these pages, creating what will soon become a true crime classic." - Kevin M. Sullivan, true crime author on Masters of True Crime
"This book should be a mandatory purchase and read for any true-crime buff." - Steven A. Egger, PhD, associate professor on Masters of True Crime
"Incredible cases, psychopathic killers, unwitting victims, along with the very best writers, make for an exciting, no-holds-barred, soon-to-be true-crime classic." - Dan Zupansky, host of True Murder on Masters of True Crime
"An indispensable sourcebook for anyone interested in American homicide, from law-enforcement professionals to armchair criminologists." - Harold Schechter, true crime historian on The Dynamics of Murder "
Vivid case studies of murder to complement this well researched criminology text." - Scott Bonn, Ph.D., criminology professor on The Dynamics of Murder
About the Author
R. Barri Flowers is a well-respected, award winning criminologist and bestselling author of more than one hundred books, including enthralling true crime and criminology books, as well as gripping mystery, suspense, and thriller fiction, and young adult mysteries.
True crime titles include The Sex Slave Murders, Murder During the Chicago World's Fair, Murder of the Banker's Daughter, Murder of the Doctor's Wife, Murder at the Pencil Factory, Killers of the Lonely Hearts, Dead at the Saddleworth Moor, The Pickaxe Killers, and The "Gold Special" Train Robbery.
Criminology titles include Prostitution in the Digital Age, Runaway Kids and Teenage Prostitution, Sex Crimes, The Dynamics of Murder, Murders in the United States, Street Kids, and College Crime.
Mystery and thriller titles include Before He Kills Again, Dark Streets of Whitechapel, Dead in Pukalani, Dead in Kihei, Deadly Defense, Fractured Trust, Killer in The Woods, Murder in Maui, Murder in Honolulu, Murdered in the Man Cave, Murder of the Hula Dancers, Murder on Kaanapali Beach, Persuasive Evidence, Seduced to Kill in Kauai, State's Evidence, and Justice Served.
R. Barri Flowers, along with Jan Grape, edited the two ACWL mystery anthologies, Murder Past, Murder Present and Murder Here, Murder There.
The author received the prestigious Wall of Fame Award from his alma mater Michigan State University's renowned School of Criminal Justice. As a much sought after expert on true crime, R. Barri Flowers has appeared on the Biography Channel, Investigation Discovery, and Oxygen television series.
Follow R. Barri Flowers on Twitter @RBarriFlowers, Facebook, LinkedIn, Pinterest, Goodreads, and LibraryThing. Learn more about the author and upcoming projects in Wikipedia and www.rbarriflowers.com.